Volver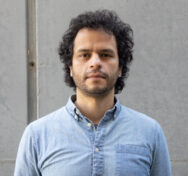 I am a Colombian sociologist with a Ph.D. in Demography and Sociology from the University of Pennsylvania (2019). My research focuses on social class and gender differences in family formation and dissolution trajectories, primarily in countries of the global South and among immigrants in the United States and Europe. I use censuses, surveys, administrative records, and vital statistics to answer questions about how the people's material living conditions throughout their life course associate with specific family and migration paths, and how these family and migration paths influence social class and gender disparities. I also research global inequalities in knowledge production in social sciences.
2022
GARCÍA-ARIAS, Jenny Alejandra; CASTRO-TORRES, Andrés F. (2022) "A binational analysis of infant mortality among crisis-driven diasporas and those who remain: a population-based study in Colombia and Venezuela". BMJ Global Health, 7 (8), e009523: 1-8 (ISSN: 2059-7908). DOI:10.1136/bmjgh-2022-009523 I.F.:
JCR (SSCI)_2021_Q1_Public, Environmental & Occupational Health, i.i. 8.064
SJR_2021_Q1_ Health Policy, i.i. 2.263
CASTRO TORRES, Andrés (2022) "Family formation trajectories and migration in the United States by the end of the 20th century". Current Sociology (First published: May 18, 2022): 1-30 (ISSN: 0011-3921). https://doi.org/10.1177/00113921221097155 I.F.:
JCR (SSCI)_2021_Q2_Sociology, i.i. 2.489
SJR_2021_Q1_Sociology and Political Science, i.i. 0.928
BATYRA, Ewa; PESANDO, Luca M.; CASTRO; Andrés F.; FURSTENBERG, Frank F.; KOHLER, Hans-Peter (2022) "Union Formation, Within-Couple Dynamics, and Child Well-Being in Global Comparative Perspective". Population Center Working Papers, 84: 1-32. University of Pennsylvania, Population Center.
ESTEVE, Albert; CASTRO-MARTÍN, Teresa; CASTRO, Andrés F. (2022) "Families in Latin America: Trends, Singularities, and Contextual Factors". Annual Review of Sociology, 48: 485-505 (ISSN: 0360-0572). https://doi.org/10.1146/annurev-soc-030420-015156
I.F.: JCR (SSCI)_Q1_Sociology, i.i. 4.16
SJR_2021_Q1_Sociology and Political Science, i.i. 5.406
CASTRO, Andrés F.; ALBUREZ-GUTIERREZ, Diego (2022) "North and South: Naming practices and the hidden dimension of global disparities in knowledge production". Proceedings of the National Academy of Sciences-PNAS, 119 (10), e2119373119: 1-7 (eISSN: 1091-6490). https://doi.org/10.1073/pnas.2119373119 I.F.: JCR (SCIE)_2020_Q1_Multidisciplinary Sciences, i.i. 11.0205
SJR_2020_Q1_Multidisciplinary, i.i. 5.011
CASTRO TORRES, Andrés F.; GUTIERREZ-VAZQUEZ, Edith Y. (2022) "Gendered and Stratified Family Formation Trajectories in the Context of Latin American Migration, 1950 to 2000". International Migration Review (First Published January 19): 1-34 (ISSN: 0197-9183). https://doi.org/10.1177/01979183211067768 I.F.:
JCR (SSCI)_2020_Q2_Demography, i.i. 2.901
SJR_2020_Q1_Demography, i.i. 1.109
LIU, Chia; CASTRO-TORRES, Andrés F.; BATYRA, Ewa (2022) "A gender story of social disengagement of young adults in Latin America". MPIDR Working Paper, 4: 1-47. https://doi.org/10.4054/MPIDR-WP-2022-004
CASTRO-TORRES, Andrés F.; BATYRA, Ewa; MYRSKYLÄ, Mikko (2022) "Income Inequality and Increasing Dispersion of the Transition to First Birthin the Global South". Population and Development Review, 48 (1): 189-215 (eISSN: 1728-4457). https://doi.org/10.1111/padr.12451 I.F.: JCR (SSCI)_2020_Q1_Demography, i.i. 3.338
SJR_2020_Q1_Demography, i.i. 1.836
CASTRO TORRES; Andrés F.; PARRADO, Emilio A. (2022) "Nativity differentials in first births in the United States: Patterns by race and ethnicity". Demographic Research, 46: 37–64 (ISSN: 1435-9871). DOI: 10.4054/DemRes.2022.46.2 I.F.:
JCR (SSCI)_2020_Q3_Demography, i.i. 2.046
SJR_2020_Q1_Demography, i.i. 1.132
2021
CASTRO TORRES, Andrés F.; PESANDO, Luca M.; KOHLER, Hans-Peter; FURSTENBERG, Frank (2021) "Family change and variation through the lens of family configurations in low- and middle-income countries". Population, Space and Place, e2531: 1-22 (ISSN: 1544-8444). https://doi.org/10.1002/psp.2531
I.F.:
JCR (SSCI)_2020_Q1_Demography, i.i. 3.814
SJR_2020_Q1_Demography, i.i. 1.398